Welcome to -musicalentropy, founded by Ivan Cohen.
Ivan has worked in the audio software industry for 10 years. He did a PhD thesis with IRCAM about guitar amplifiers, and was employed as a R&D engineer for several years for the company Two Notes. Today, he is working as a consultant for various commercial software firms such as Sonic Academy, improving his skills in development with the VST SDK and the JUCE framework, and he has released his own productions under the name -musicalentropy.
His main interests are virtual analog modeling, digital audio effects programming for DSPs or audio plug-ins, and improvement of the user experience in tools for creative people.
-musicalentropy is located in Marcoussis, France, 30 km south of Paris.
The following audio plug-ins have been developed for a contest called the KVR Developer Challenge. The objective was to create and release a brand new free audio plug-in, application or sound library / pack / set that would benefit the community at large. The votes were handled by the KVR forum members, who would vote on the entries and pick their eventual winner using whatever criteria they choose to.
---
KVR Developer Challenge 2012 - Inspiration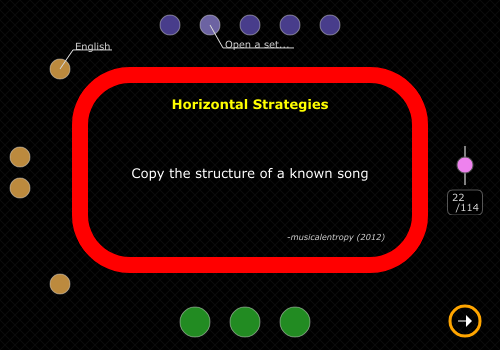 Inspiration is an application developed to stimulate the creativity of music composers. Influenced by Brian Eno's Oblique Strategies, and techniques described in several books about songwriting such as the Frustrated Songwriter's Handbook from Nicholas Dobson, Inspiration allows its users to get random, more or less abstract advice that can provide ways to handle the blank page syndrome, new "cooking recipes" to create music in general, ideas to develop or finish a song, write a lot of music in a short time, take new, different, stimulating musical paths.
---
KVR Developer Challenge 2014 - Guitar Gadgets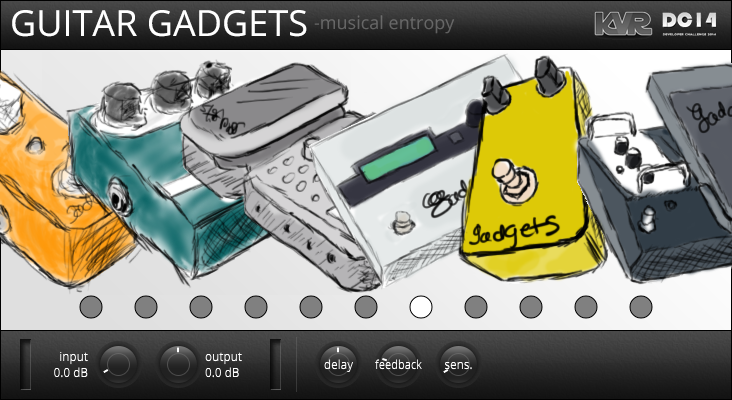 Guitar Gadgets is a compilation of "false" analog guitar pedal simulations, made to be used mainly with electric guitars and guitar amp simulations, but which may be sound interesting in any situation. The focus wasn't to design classic effects, but weird, strange, ugly or "different" ones instead. It is available on VST and AU formats (32/64-bits, Windows and Mac OS X).
More information on Guitar Gadgets and Inspiration can be found on my blog, or on associated KVR forum topics here and there.
Here is a compilation of Ivan Cohen's articles and writings. They are focused mainly on his PhD thesis main area of expertise, guitar amplifier modeling for real-time simulation, but others will follow later.
---
Academic articles :
---
Others :